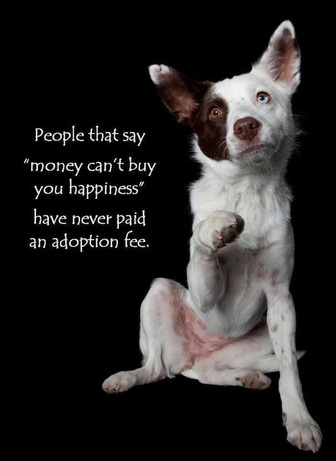 "Shelter pets aren't broken. They've simply experienced more life than other pets. If they were human, we would call them wise. They would be the ones with tales to tell and stories to write. The ones dealt a bad hand who responded with courage. Don't pity a shelter pet. Adopt one. And be proud to have their greatness by your side."


Pedigree®


---

Open for Adoptions

Monday ~ 12:00 pm to 2:00 pm
Wednesday ~ 6:00 pm to 8:00 pm
Thursday ~ 6:00 pm to 8:00 pm
Saturday ~ 11:00 am to 2:00 pm

Hours may also available by appointment


All of our dogs and puppies are vaccinated against rabies (4 months old or older) and also
the distemper/parvo combo vaccine is given while they are in our Shelter.
They have also been flea treated and wormed.
We are unable to accept checks or credit cards and adoption payments must be in cash.
Dog adoption fees are $125.00. If your new dog or puppy is not spayed/neutered,
you will sign a spay/neuter agreement to have your dog or puppy
spayed/neutered within 30 days of adoption, and you will receive
a refund of $35.00 once your pet has been spayed/neutered.
Dogs are also heartworm combo tested and spayed/neutered if old enough.

Cats and kittens receive their feline leukemia combo test, combo vaccine and are flea treated and wormed.
Cat and kitten adoption fees for spayed/neutered fur babies is $70.00. If the cat or kitten
is not spayed or neutered, the adoption fee is $30.00.
Donations are always welcome to allow us to rescue more!!

If adopting a cat or kitten, we ask that you please bring a carrier to take your new Family member home
as they cannot leave our shelter unless in a carrier.

All of our pets are microchipped and the microchip is registered with the new owner upon adoption.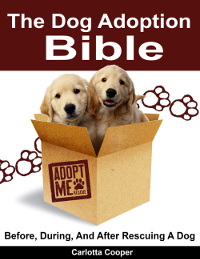 Before you adopt, you may want to take the time to read the
Dog Adoption Bible
provided free to the public by Mike Rogers. You may download it, share it and/or print it at no charge. It is specifically written for those who are adopting a dog for the first time but it can be helpful for everyone. The book was written to help keep shelter dogs in great homes which is what we all want to see.
---

Applications are taken on all pets available for adoption. You will be notified within 48-72 hours regarding the status of your application.

Please note that if you are interested in adopting one of our dogs to be a part of your Family,
we ask that you bring any other dogs you have at home
to meet any of our dogs before adopting.
When bringing your pet from home to meet your new potential
Family member, please bring proof of valid Rabies vaccination.
Thanks!!

If you rent, we must have a written letter from your landlord with contact
information, permitting you to have a pet.